Morninggggg
Today I have to go out to run some errands with mummy so I woke up slightly earlier than usual 😉 sighhh have to go settle my summons as well before I forget them again. I don't wanna end up in courttttt. Now I just have to find out where to pay them. Don't know why they must separate places to pay summons. So troublesome!
Remember this palette that I've mentioned in my favorite palettes post *here*? I said that I'll use it during Christmas celebrations since I've not used it for a long time.
I tried using it but nearly spoiled my eye makeup on Christmas Eve. I don't know if it always had been like that or it became weird after not using it for quite some time. The eyeshadows looked so muddy on my lids. They got over blended that all colors merged into one. My eyes looked like they have been severely
boxed 😱😱😱 I quickly removed my eye makeup and start all over again with another palette 😞.
I've decided to throw this away since it's not working well d 😞😞😞 Kinda sad and 不舍得 to throw it away. But since it's not doing what it's supposed to do and damn old d, I had to let it go.
It also means that I can get a new palette. Gone with the old, in with the new wtf. Hehehe~
Here are some options that I've been thinking about...
Many people dislike their Naked 2 but I think the colors are quite nice. If I was given a choice of Naked or Naked 2, I would choose 2 coz the colors are more wearable for me. Naked's colors look a bit too dark. I hardly need to do smoky eyes so this is better.
Not considering Naked 3 coz I've the dupe (MUR Iconic 3).
(pic credits to Sephora Malaysia's website)
I was thinking to get this but I've not even started using my Zoeva palette. Don't know if I'll like Zoeva or not. So it's risky to get another Zoeva palette la. But the colors really quite nice la.
Btw this is Zoeva Naturally Yours palette.
This Sleek I-Divine pallets in Au Naturel also caught my eye but I'm not sure of the quality. Need to go to YouTube and look for some reviews first.
Actually I've stumbled upon a few Sleek product reviews before thinking of getting a palette. Apparently their palettes are mostly a mixture of hits and misses. Other palettes have mixed reviews as well so I'm not sure which to get yet.
Maybe I can delay this purchase la coz I'm not in a rush to get a palette also. I can live with the rest of the
palettes first. I also need to reevaluate if I need another palette. If I have everything I need for a neutral eye, might as well just not buy a neutral palette for now.
I've been looking at BH Cosmetics' Shaaanxo palette which is a dupe for Kylie's first palette. I kinda like it but I don't want the 9 lipsticks in the palette. Like I said a million times, I'm just not a fan of lipsticks in a palette.
Instead of paying RM60 for both summons, I've got a discount. So I only need to pay RM25. Still a lot. If only I remembered to pay the earlier one 24 hours after getting the summon. Then it'll only be RM10 for one. Sighhhh...
Finally got time to take a seat and put up my list of favorite (non-liquid) lipsticks. It didn't take me long enough to put it together coz there are only seven lipsticks that wear regularly. Out of that seven, only one is not matte and it's out of the list 😆 i am seriously not a big fan of non-Matte lippies lol.
I've cut down to only five of my favorite, so let's jump into the list...
5. Makeup Revolution Iconic Pro Lipstick in Liberty Matte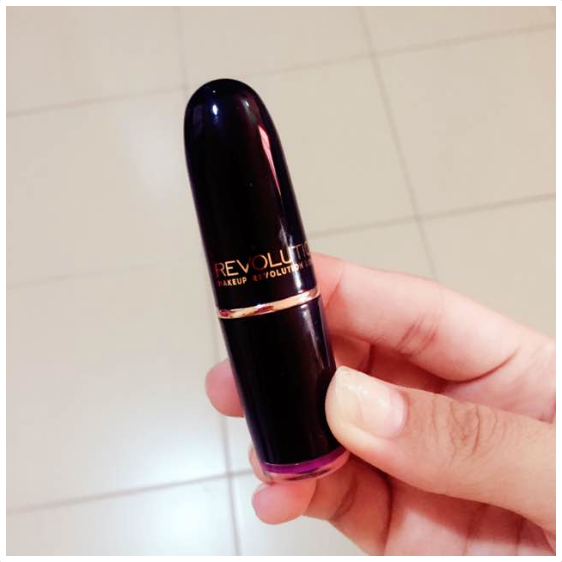 If given the chance to recommend an item from Makeup Revolution, this has to be it. Out of all the things that I got from Makeup Revolution, this is the best and also most used...at one point la. Now I hardly put on this lippie. Right after I got pregnant actually. I prefer something less "showy" and drying recently.
This is d reason why I said it's "showy". It's like spot on purple shade which I didn't think I would be wearing. But when I first started, I love it so much that I was wearing it every other day.
With the boring clothes that I'm wearing recently (pregnant woman can't be choosy 😆), I don't think I can rock this shade for the moment. Maybe I should try 😆😆😆 Never know I'll be a damn hip pregger mum ok.
Btw this lippie is in low place not coz I don't like it. It's here coz I don't wear it as often.
I
'll get more colors from this series if it is still available. Even though it's drying, I really love how vibrant it looks on my lips ❤️
Ranking: 💄💄💄 out of 5 (damn high ah... I don't know how to rank others d lol)
Got this after watching TheKellyYang (a Taiwanese youtuber)'s video (can't remember which one and lazy to find it 😬). Don't know why so 冲动 suddenly coz I've never bought anything recommended by youtubers immediately after a video unless I really need it. We all know I don't desperately need another lippie right?
Would you look at that gorgeous red? When I unboxed it the first time, I fell so helpless in love with the awesome red shade. It's the red I've been wanting to buy for a long time.
Look at how flat the top looks and also how the word "Wet n Wild" is scrapped off (first pic). That's how much I've been wearing this. Whenever I couldn't think of what to wear, I'll just take this out and put it on. It's always on top of my other lippies just coz I'm always wearing it.
I got it coz I heard it's a dupe for MAC Velvet Teddy. I just wanted to try out the color to see if I can suit the shade before committing on a Velvet Teddy which cost a bomb. I love it 😍 I might just splurge on
Velvet Teddy. But I'll have to wait till my shopping ban is lifted or when I'm in KL...whichever happens first wtf. Ok I'm kidding. I'll just wait till my shopping ban is lifted la.
For now I'm just gonna keep repurchasing Bare It All until it gets discontinued...which I hope never ever happens.